Disclaimer: All information on this site is general info and does not constitute advice on any medical or psychological condition. Please see our full disclaimer here:
---
Cod-Liver Oil for Dogs
Cod-liver oil for dogs confers benefits of healthy nerves, skin, bones, teeth and coat. 
Photo: For optimal bone growth, organ development and overall health in puppies, you will want to seriously consider this superfood.
Cod-liver oil for dogs is a spectacular addition to either barf diet ('barf' stands for bones and raw foods) or commercial dry or moist food. I am a strong advocate of a species appropriate raw diet for dogs. However, if necessity dictates that you feed packaged food, it is even more important to add some special foods to your dog's diet.
The very BEST one for your canine companion is made the old-fashioned way by a one-of-a-kind company that refuses to compromise in its production practices.
When it comes to special foods for your pet, you want to really do your research. You see, almost all processes used to extract and 'clean' these foods compromises the nutrients needed for profound healing.
For example, when you see the words 'molecularly distilled,' run away as fast as you can. That product has NOTHING to offer of the real healing it is known for. The special compounds that benefit us and our canine companions have been completely destroyed by this 'cleaning' process
Cod Liver Oil for Dogs:
the Benefits
Assuming you choose the BEST cod liver oil for dogs for your canine best friend, what are the benefits?
Bone structure and soundness depends on excellent utilization of minerals such as calcium, phosphorus, magnesium and boron so essential to skeletal integrity. Vitamin A and Vitamin D as well as many known and unknown compounds in REAL cod liver oil support bone growth in puppies and bone strength in adult dogs.
The wealth of phospholipids, omega 3, 6, 7 and 9 essential fatty acids, EPA and DHA in the best product supports brain and nervous system, eye health as well as supple skin and luscious coat.
**Not only that, but these same compounds support hormonal health and mood as well!
Cod Liver Oil for Dogs:
What to Look For...
IMPORTANT: Be sure to select the non-flavored product (shown below) when getting cod liver oil for dogs. This will assure that your dog will not be receiving herbal compounds that are not good for canines, such as rosemary extract, peppermint oil and other flavorings used to make the product palatable to us humans.
NOTE: The LEAST processed cod-liver oil I know of is on THIS PAGE. However, because of the necessary rosemary extract used to preserve its extraordinary freshness, I would NOT use it for dogs.
PHOTO BELOW: Another fish liver oil product I HIGHLY recommend which WOULD be excellent for dogs is reviewed HERE. You can buy it on THIS PAGE.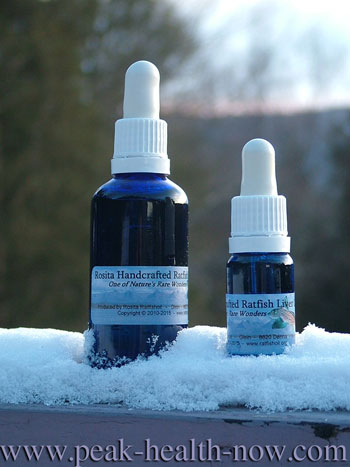 The product below is based on the research of Dr. Weston A. Price.

It contains a combination of fermented cod liver oil AND butter oil from the milk of cows fed on new spring grass.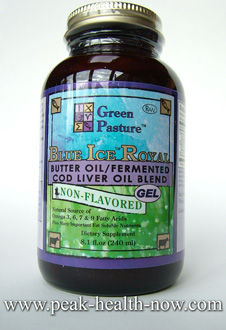 © 2008 - 2015 ™Peak Health Now.com. All rights reserved. 

Disclaimer: Any and all articles, answers and comments on this site are for general information, and are not intended to be a substitute for your informed professional medical or other professional advice. 

You are responsible for the results or consequences of your choices based on general information presented here. Information is used at your own risk. 

The owner expressly disclaims liability for any product, manufacturer, distributor, service, or service provider or any opinion expressed in answers or comments. For all health and medical questions, please consult with your doctor. By viewing this site, you are stating that you agree with this disclaimer.